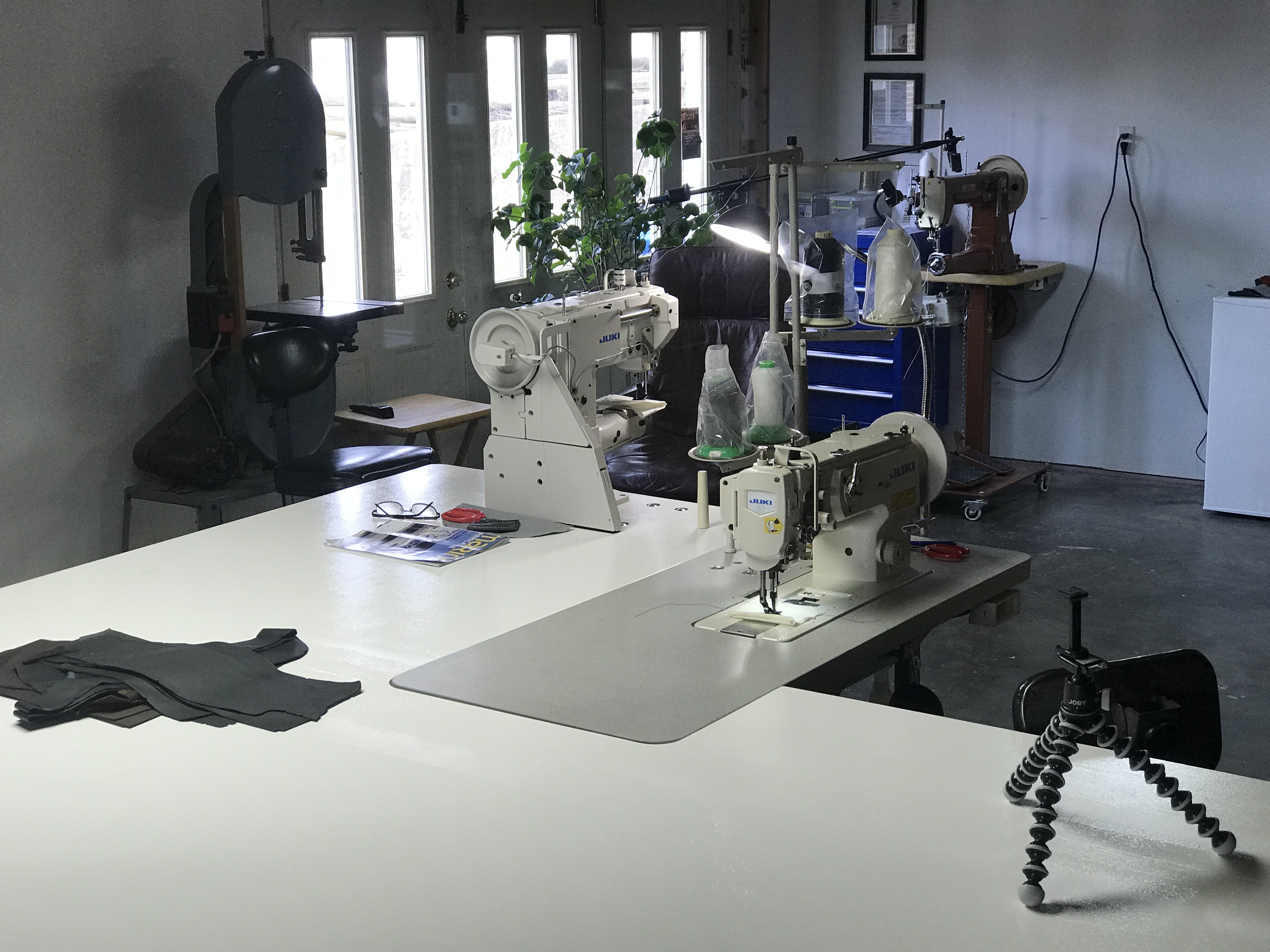 Content count

667

Joined

Last visited
LW Info
Interested in learning about

These HD Sew Machines and working the leather tools

How did you find leatherworker.net?
Jim: Good morning, I found this older link from the site that has a good bit on oil. Im gonna leave the grease part to some others, though would like to hear some recomendations. Particularly on the open gears of my 1341 and or the singer 212. anyway > http://leatherworker.net/forum/topic/72459-right-oil/ Floyd

You could in check your local saw and scissor sharpening service. Many of these places are capable and have some pro machinery. Although doing a lot of buffing and stroping may need your touch. Good day Floyd

Nice machine ya got there Forester! Enjoy Garypl Its not surprising to me Im pretty sure the Cowboy brand is the US affiliate of Hightex. Somehow its still not surprising to me my Cobra stand is the same, although color is a bit different as is the table. With age it gets easier to be this way. Hey its Friday! Floyd

Thats an excellent job. Good day Floyd

I respectfully am curious; i still havent a clue what flat packed would mean. Might this mean the shipment is on a pallet. With flywheel needing installed, the machine to be installed on the stand that requires assembly. I have a cloned machine also from the Juki 441 as many do. Interesting the technical manual question among I think all of us. Before any heat arises the videos of tuning and various aspects are actually great! On all the represented machines we talk about these days. In the past a mention and link somewhere for the Juki 441 manual was up so I printed one and was amazed at the help it provided. This information I had, for my Cobra was now Improved by learning of another Superb technical manual from the Artisian company. This manual of their Toro has information thats also based on the 441. So for some reference on these 441 clones keep this excelent link in your library. Of course your own brand and their professional dealers should be ask and informed first of any questions. http://www.artisansew.com/pdf/manuals/TORO_30_32_40_BT_manual.pdf good day Floyd

There is no question in my mind, I would take a look at Roberson. The time I have spent on their site just looking at used machines they have aquired is a lot. Their contact, quote page, in my experience is good. The response times in my past beit several years ago was in short order. I think the time taken to talk with anyone buying and refitting or re-selling used equipment at scale is interesting. In such a short distance from that option it would be a good choice in my opinion and an experience for any future. Im sure they have a person or two that is doing some technical adjustments and repair also. Good day Floyd

This is an interesting post, with a nice machine. I must say hiring a service tech does affect the value. Then again this requirement is an investment for most large companies. Many of us here on the site including you, either start learning to repair their machines in interest and or a cost investment. Only you know what your primary focus is to be at this start. In a begining getting the machine to function as the factory designed is an asset. So anyone interested will also need to account for this. If you know a technician in this industrial field then this may be a great option. There is no doubt others here have been a great asset in their help. This internet has been the best thing ever for the sharing knowledge. In this strategy we just have to account for time and patience if we ourselves decide to repair beyond operator levels. Good day Floyd

Sorry I dont know the thread type. Are you in need of a replacement or just want to repair the area. Im sure some of the members can discuss the particular machine model and direct toward a repair. Good day Floyd

The workbench looks to be a great choice. Now your going to be busy in the shop again. Enjoy! Thanks for sharing Floyd

Hey there and a Big Congrats on the new Juki I agree always a pleasure dealing with Keystone. They have been a great help, also supporting questions here on the site as well. Appreciated The casters I swear by, and cannot imagine being without. I decided to have them on everything, for sure these are some good choices you made. Enjoy the machine and have a good day Floyd

Thats good to hear. Whats the chance to see it and or a place to obtain one. Thanks Floyd

The 4200 looks to be a juki 1541 clone and so, im sure would be a nice choice. I would suggest " if " your intent is leather sewing. The speed reduction pulley be purchased as a best first initial investment. Additionaly a tiny led light w/magnet fastening, mounting right next to needle. If i can see the stitch i can kickback and guide pretty easy. Another for that model is a couple extra 3 bobbin caps/or cases, one for spare setup and others for another size thread, tension adjusted. Good luck on your new machine Floyd

In my shop table refit, with a drawer/storage build. I'm installing a King Plastics product; King Starboard ST in the 1/2". Its a step I changed to because this is made or designed to not warp. I have plans on a couple tops that lift for a bit of storage, the tops will have this material added on. The lifting should be fun and a project itself. It seems to be good with a rotary blade and knives that are sharp. Simple decision on the ST series, addition to its their new product is because it came in brown/ Mocha . This hdpe choice has been a thought for several years, and bolstered from several posted experiences. So this is finally but slowly coming together, and now back to the build. Thanks everyone have a great day Floyd

Tom In addition to what the others here have mentioned I would say thread clearances, everywhere they travel. I found it handy to consider additional bobbin cases for other threads. Just for the non re-adjustment feature, from one size to another or in my particular case type of thread. But to get back on topic the feed dog has a needle hole and below the slot on the top load machine and typically would run to small for big threads and understandable. Another is the bobbin case or basket thread spring area. I have often wondered about this particularly but again as said the machine would take a good deal more stress punching the big needles. Even in the thinner weights it could need some adjustments and spring changes that would be tough jumping back and forth to on original designed thread choices. Heck sometimes a pain with the thread range as designed. One might look into some of these parts as they really imho would require modified changes. This I'm always interested in knowing. good day Floyd

This sounds like a custom folder for sure. If the top we would say needs folded into itself, being doubled, well the thickness is more and all this prior to a stitch this requires a custom part. Typicaly what one finds on the net for sale is either a plain edge folder or one setup thicker for "pre folded" both sides tape/textile material. So in this project a binder/folder with each ability and or actually "making" the just the top fold is no doubt requiring a custom setup. Imho. So Its a good time to consider how many yards will be needed to stitch these projects. If any pre-made material can be found it could possibly be an advantage. As if one side was glued I suppose. A person may try running this product through a setup they have on hand, its all experimenting. This could get expensive, so sometimes the best choice is go pro good day Floyd ps: I think the part itself is the trick not the machine at this stage.